WordFly's integration with Tessitura Preferences
Give your email subscribers a choice using WordFly's integration with Tessitura® Preferences.
By default, when email subscribers click the Unsubscribe link in an email sent from WordFly, they are opted out from all future communications. But by enabling WordFly's two-step Unsubscribe feature and our Preferences option, potential unsubscribers will be directed to a landing page instead. From there they can choose to confirm their opt-out or select which topics they would like to continue hearing about. All updates are sent back to Tessitura to update the subscriber record.
What are preferences?
Preferences in the email world are typically topics or categories of communication that are presented to subscribers during the email acquisition process. Subscribers can select which preferences they would like to hear about in future email marketing. Knowing subscriber communication preferences helps organizations send the right message to the right subscribers. Win-win for both parties!
Preferences in Tessitura are known as Attributes, Interests, Contact Point Purposes, and also Contact Permissions. These interests are first set up in system tables and then updated on constituent records. Preferences can then be used in list criteria to pull the right subscribers for each specific list manager list or extraction.
WordFly offers subscriber preferences and can sync preference updates back to Tessitura from the two-step unsubscribe page. Preferences in WordFly are actually just a special kind of data field. Tessitura-integrated accounts have the option to set up Attributes, Interests, Contact Point Purposes, and Contact Permissions in WordFly under Account > Preferences. Organizations need to be running Tessitura v11 or v12 and an updated version of the WordFly services. Our dedicated support team can help you through the entire set up process.
How does the preferences integration work?
The WordFly-Tessitura preferences feature uses the existing services integration to send preference updates back and forth between the two systems.
When a subscriber goes to the WordFly two-step Unsubscribe page they will see two choices: update preferences or unsubscribe completely.
There are two stored procedures automatically running in Tessitura to handle the updates the subscriber selects:
When the subscriber updates preferences the LP_WF_PREFERENCE_UPDATE_CUSTOMER stored procedure handles the preference updates on the constituent record in Tessitura.
When the subscriber clicks on the unsubscribe link the LP_UPDATE_EMAIL_PROMOTION stored procedure handles the unsubscribe update on the constituent record in Tessitura.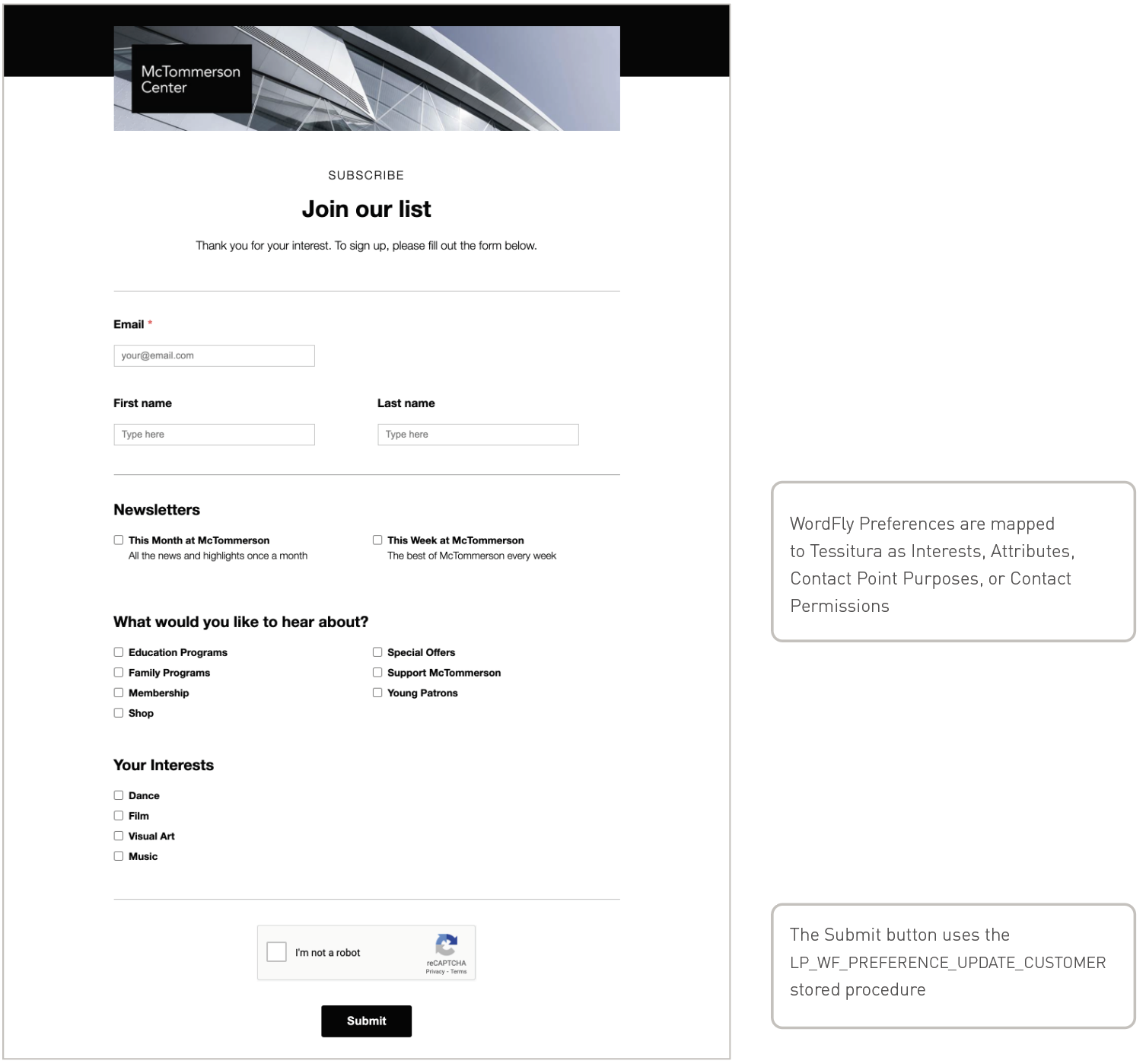 When subscribers update their preferences outside of the WordFly Unsubscribe page, these preference updates can also be sent back to WordFly. These updates happen via list imports. Tessitura output sets are updated to include each subscriber's preferences. During the list import process into WordFly, the preferences from the Tessitura list are mapped to the specific WordFly preference data fields. The data in the list tells WordFly whether the subscriber is still opted in to the preference or has opted out.
Everything stays synced up between the email send and the next import!
Learn more and get started
Check out our support post to review each step of the WordFly-Tessitura preferences set up process and details about how it all works:
How do I set up Tessitura Preferences for WordFly Unsubscribe?
Tessitura® is a registered trademark of Impresario L.L.C. and is used by the Tessitura Network, Inc. under license